Welcome to my 16th newsletter. In my last letter I started by saying that I was looking forward to a quieter period of planning for the future. That spectacularly failed to happen and I have had the busiest spring of my career to date.Contents
Jambusters & Home Fires
The Arvon Link
Fashion on the Ration
And Finally…
Julie in her cameo-role costume after filming for six hours in September 2014. And yes, it is a grey curly wig.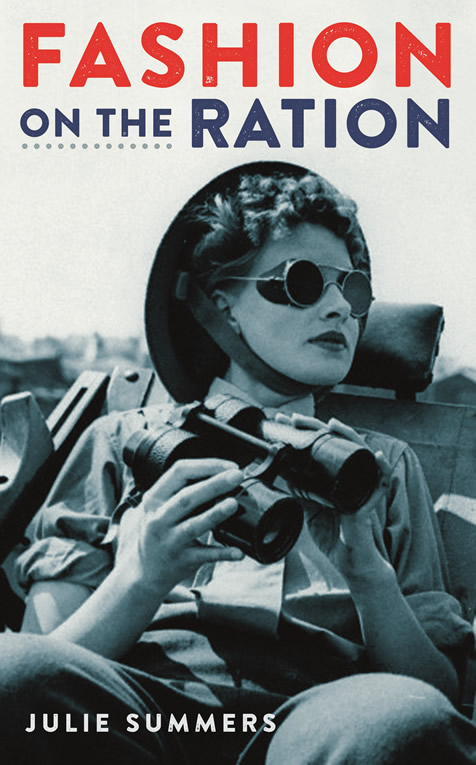 Jambusters & Home Fires
At last, at last, we have a transmission date. Home Fires, the drama series inspired by Jambusters, will commence on Sunday 3 May 2015 at 9pm on ITV and run for six weeks. It is quite the most exciting thing that has happened to me in my career and I am not yet sure what it is going to mean for the future. As my agent said to me recently: 'Hold on to your hat'.
I first saw the trailer for the series in December 2014 and then had to wait patiently until mid- March to see episode one. It was one of those moments that will stay with me forever. I sat in my sitting-room, where script writer Simon Block, executive producer Catherine Oldfield and I had sat 27 months earlier, and watched the characters Simon had begun to create in December 2012 living, breathing and being. It was an extremely emotional experience and I could almost not think straight as I was watching it. The second time I saw it was in Bunbury (Cheshire) in early April, where the series was filmed the previous autumn. ITV had organised a private screening in the beautiful medieval church and we all sat transfixed, watching the village pop in and out of focus as the action took place in front of our eyes. It was a most surreal experience. Lots of people were whispering excitedly when they saw themselves, their houses, their cars, but by the third quarter of the episode there was silence: a sense that the drama was too important to interrupt and the church was almost completely quiet, except for the odd gasp or laugh in the relevant place. When the closing credits rolled there was a moment's hesitation before the audience burst into loud applause. Afterwards, when some of the noise had subsided and people were able to move around, I overheard one man saying to another: '… absolutely fascinating. Never seen anything like it. Who'd have thought to put on a drama about the war from the women's point of view?' Bingo. That is exactly the reaction one wanted to hear. Let us just hope it is similarly positive when it comes to our screens for real. I hope you enjoy it.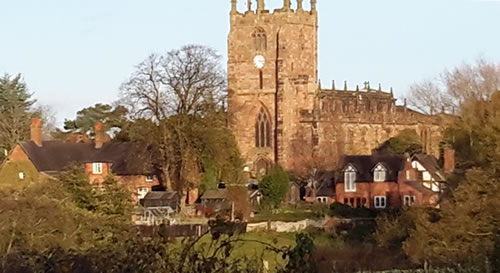 The beautiful medieval church of St Boniface in Bunbury where we watched the first public screening of Home Fires on 9 AprilThe Arvon Link
Those of you who know me will remember that I love coincidences. The full story of the birth of Home Fires from my perspective is recounted in the new edition of Jambusters. The short version is that after I finished writing the book in the summer of 2012 I took myself off to Totleigh Barton, a beautiful 16th century manor house in an idyllic corner of Devon. It is run by the Arvon Foundation, a wonderful organisation set up in 1968 to run courses and offer retreats for writers of all levels of experience. I signed up to a script-writing course as a beginner. And a beginner I remain, though a much better informed one than I had been before the course. I am no television script-writer but I did have the immense good fortune to be tutored by two very talented ones: Brian Dooley, famous for The Smoking Room, amongst other comedies, and Simon Block, now the creator and writer of Home Fires.
I was having a tutorial with Simon on the very last day of the course and as we both knew it was pointless talking about script-writing, we got to chatting about my non-fiction work. I told him about Jambusters and showed him the jacket for the hardback on my phone. He seemed interested, which rather surprised me. I did not think the WI would necessarily grab the attention of a script-writer whose work had to date included writing for Lewis, Shetland and an award-winning drama The Shooting of Thomas Hurndall. Well, I was wrong and a month after the course ended Simon wrote to me and asked if I would like to meet his friend and TV Producer, Catherine Oldfield, who had worked on many programmes including Foyle's War. That was recommendation enough and a few days later my agent, Francine Fletcher, and I turned up at a small restaurant in Covent Garden. By the end of lunch we had agreed I would send Catherine the proof of Jambusters and she in turn promised to read it and get back to me soonest. Which she did. Three days later she emailed, 'Summers, you made me cry'. The next few months were a rollercoaster in so many ways. Nothing was certain but everything was possible. Then, nearly 18 months after we had first met, I received the phone call I had been longing for. 'We are going to make a six part drama series.' That was 18 March 2014. Script-writing happened at breakneck speed over the spring and filming commenced in September. The cast and production crew were fortunate to have only 2 days of bad weather. Cheshire was showing off to the maximum. Now the whole show has moved on and the drama is real. It exists and it is soon to become public. A unique experience for me and so far from anything I was thinking when I settled down in 2009 to write about the wartime WI.
The final piece in the puzzle for me came in April 2015. To my intense delight the news of the transmission date came through as I was driving from Oxford to Clun in Shropshire to speak to Arvon students doing a non-fiction course at The Hurst. The connection I had made in Totleigh Barton two and a half years earlier had come full circle on the exact day I was making my first visit to Arvon in Shropshire as a guest lecturer. As I said, I do love coincidences.Fashion on the Ration
Not to be overshadowed by the WI, the book and exhibition Fashion on the Ration at the Imperial War Museum have enjoyed lots of press and thousands of visitors. The museum is particularly thrilled that the exhibition is attracting younger visitors as well as people who enjoy reminiscing about living through clothes rationing and Make-Do and Mend. I am very pleased that one of the themes of the book and show is that wartime clothing, while limited in design, was not dull in terms of colour. This is reflected in the wardrobe chosen by Lucinda Wright for the clothes worn by the characters in Home Fires.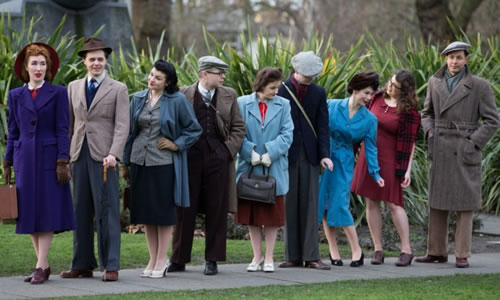 Young people dressed in Fashion-on-the-Ration clothing at the IWMAnd Finally…
I just want to say a very warm thank you to all of you who have been with me on this journey in one way or another over the last few years. It has been great fun and as I look back over the newsletters that I first started writing in September 2009, quite a lot of water has passed under the bridge. My particular thanks to Andy Ballingall, who puts this newsletter together and is responsible for my website and to Graham Ives, who is a wonderful and generous editor.
Julie Summers
May 2015, Oxford