The secret lives of Britain's Country Houses 1939-45
This book offers behind-the-scenes glimpses of life in some of Britain's greatest country houses that were occupied by people who would never otherwise have set foot in such opulent surroundings. Blenheim Palace was taken over by schoolboys who slept in the Long Library; Polish special agents trained in the grounds of Audley End House and learned to forge and lie their way into occupied Europe in the old nursery. Brocket Hall, former home of Queen Victoria's favourite Lord Melbourne, was used as a maternity home for women from the east end of London and the Rothschild's magnificent French chateau-inspired Waddesdon Manor housed a hundred children under five. The Northern Highlands, where the fierce warriors of Scotland's past developed their unconventional military skills, played host to the most extreme form of warfare training agents in the fine arts of sabotage, subterfuge and assassination.
There are Poles, Czechs, French, Dutch, Norwegian and Germans nestled in these pages. Some good, some bad, some just plain evil but all fascinating in one way or another.
Our Uninvited Guests was published by Simon & Schuster in June 2018
ISBN: 9781471152559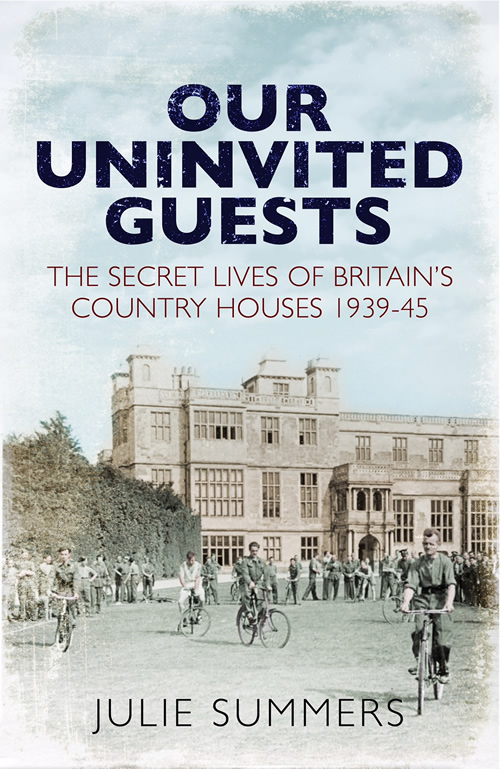 "A great panorama of extraordinary tales … Julie Summers has an amazing instinct for unearthing good stories and telling quotes."
"Wonderfully evocative … a warm-hearted and fascinating treatment of a very good story."
"It's hard to believe that there are still untold stories about Britain and World War II, but Julie Summers has unearthed a fascinating one that she tells with great verve and style. Her account of the British government's forced requisition of stately country houses for war-related work is an extraordinary tale of lives upended and cultures colliding, with an astonishingly colorful cast of characters that range from aristocrats and schoolgirls to Polish saboteurs and French spies. All in all, Our Uninvited Guests is a sheer delight."