Now that this book is published, people are beginning to comment on the name, I just want to put the record straight and explain its origin.  The title came from my younger brother, Tim.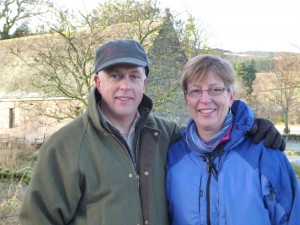 I was at home in the kitchen with my family in November 2009, celebrating the fact that Simon & Schuster had agreed to publish a book on the WI in wartime. During the War the WI made jam but they also did a great deal more.  They looked after evacuees, knitted some 16 million garments, ran National Savings schemes, sat on government committees on housing, rural development, education, health and post-war reconstruction. And above all, they dealt with everything in a no-nonsense, practical way, circumventing bureaucracy and focusing on what could be done rather than what could not. The book needed a title and as the book was going to show the WI in an impressive light – far more impressive than many people would expect – it needed a really good title.
We began a texting dialogue with Tim, who was at home in Aboyne. Various suggestions flew back and forth (sadly, I have not got the text stream anymore) but I remember one was a play on 633 Squadron and another on The Guns of Navarone.  I confess that the fascination with war film titles probably comes from the family association with the Bridge on the River Kwai, which I had written about in 2005, and the fact that Chris has worked on and off in the film industry for years.
Then came Jambusters. I was standing by the toaster and Chris was at the table. I recall it very clearly. I read out the name Jambusters.  There was a stunned silence. Then I shouted 'That's it! Brilliant! We've got it!' I rang Tim immediately and said I would try it out on Mike Jones at S&S. He loved it, my literary agent loved it, but now I had to try it on the WI and I was seriously worried they would find it flippant and possibly even insulting. I was wrong and now it seems as if the title is taking on a life of its own.

Claudia Winckleman mentioned it on her show on Friday 22nd March, even while the book was still under embargo (http://www.bbc.co.uk/programmes/b01qqc2w – 34 minutes in) and quipped: 'The Jambusters are coming!' They are indeed.   One of my friends sent me a quote from his brother-in-law who was a Dambuster: "Winning a war would be impossible without the women left at home." Too right. I honour and celebrate those women, the Jamubsters.
So that is how the title was called into being and I owe my brilliant brother Tim a very large hug.
Follow me on Facebook or twitter:
http://www.facebook.com/Jambusters1?ref=hl