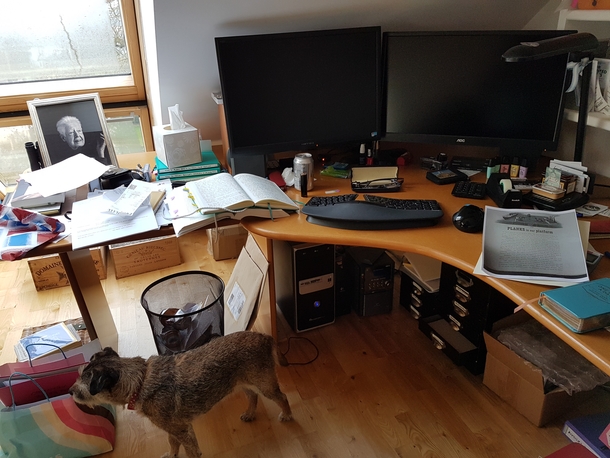 My very messy desk and one patient dog, Tiggy, who sits in her wine box behind the desk day in, day out, while I'm writing
Well, as promised in my last blog, here I am on 4 April 2019 with the first draft of Audrey under my belt. I kept a note of the daily word count to prove to myself that I was making progress so I thought I would be brave and publish it here. It shows, to me at least, the days when I struggled to get into the writing mode and other days when things went fluently. That is the nature of writing non-fiction in my experience: I get onto a roll and power through a segment, as I did on 19 February or get stuck up a blind alley as shown by the dismal figures on 4 March.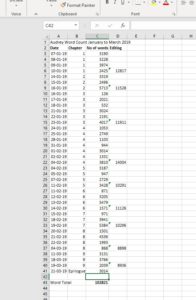 Do these figures actually tell me anything about my writing? To some extent they do. On 19 February I wrote the last half of chapter seven which covers the breathtakingly exciting period in Audrey's editorship when Lee Miller was covering the battle of St Malo and the liberation of Paris. My diary entry from that day reads: 'After gym spent all day writing 5384 words on Lee in France. All good stuff but utterly exhausting. Off to plan skiing clothes.' Not very informative but the truth is that writing is exciting in my head but boring for the rest of my family. When I am locked up in my office for eight hours, I am hors combat to all and when I emerge my brain is so fried that I am not very good company. For what it is worth, I had returned from skiing on the first weekend in March so the reason for a small word count on the first Monday was not that I was stuck but that I had to spend the morning doing admin.
What next? I have 102,821 words in a draft and now the process of editing begins. For me this is the most exciting and creative part of writing non-fiction. I get to read the book for the first time as I almost never re-read anything while I'm completing the first draft. It is also a time of truth. The raw writing is full of repetition, facts that need cross-checking and an unhealthy number of adverbs. I could probably cut 1,000 words just by removing those unnecessary fillers which I know I put in to emphasise emotion or action but which add little to the work. So those will come out in the first edit, as will padding which inevitably creeps in when I am not entirely sure of myself, especially when dealing with family emotion. How do I know, for example, how Audrey felt at her father's funeral? I do not know but I have to make an educated guess based on her relationship with him shown through her letters and her thoughts in her autobiography
Ah, the autobiography. Now there is a book I have had trouble with. Audrey published her autobiography in 1994 at the age of eighty-nine. She devoted less than half of it to her years at Vogue and a portion of the later chapters deal with her father's correspondents and his art collection. In fact, that book is more interesting for what she leaves out than for what she includes. It is a prime example of her desire to cover the traces of her personal life. There is, for instance, no mention of any of her friends by name. Not a single one. But I know from her letters that she had many friends and was popular with her own age group and people of her father's generation as well. The dramatis personae in her version of her life are her immediate family, her two husbands and about eight colleagues at Vogue.
My favourite example of Audrey taking control of her own story are the couple of sentences that she devotes to her first wedding. 'Our friends had assumed that Jock and I would marry, and one day we did. From my parents' point of view it must have been an unsatisfactory affair, to a man they had never taken to, and not in church but at a registry office.' Hm. Not a very promising start to married life a reader might conclude. But Audrey was writing with hindsight and a divorce behind her. Through Percy Withers' letters at Somerville College and Harry Yoxall's diaries it is possible to build a richer and clearer picture of her nuptials. Far from disapproving of Jock, her parents accepted him readily and Percy wrote to one of his friends to say how pleased he was that Audrey was marrying at last. There was a huge party the night before the wedding, which took place on 2 September 1933 (thank you Somerville College archives), and a reception at the Savile Club in London which was attended by about 100 guests. It is true they got married in a registry office but that would not have bothered Percy Withers as he was an atheist. Mary Withers did have a religious bent but she bowed to her husband's persuasion, as she did on so many other things… but that is another story. So, you see how I've had to read between the lines and take Audrey's own record of her life with a large pinch of salt. A whole bucket load, in fact.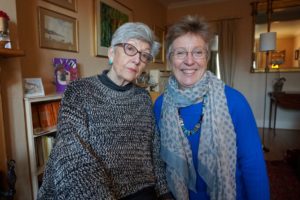 One of the myths that has grown up around her is that of the intelligent but austere blue-stocking. A headmistress-type with little emotion but great strength of character. It is true that she was intelligent, formidably so according to some colleagues, and it is true that she could be headmistress-like at work, but what that hides is her true personality. She was kind and generous, giving every member of staff at the office a personal and carefully chosen Christmas present every year. She was 'one of the quietest listeners now living' according to her friend, the artist Paul Nash, while Maur Griggs, an older friend, wrote of the gleams of friendly fun in her eyes. Later in her life she showed her passion when she described her happiness in the early months of her second marriage. Those letters to Edna Woolman Chase (editor-in-chief of Vogue), carefully preserved in the magical archives of Condé Nast in New York, were a revelation in their honesty, sheer delight and surprise at finding herself so happy. Audrey was not austere but passionate, fun, adventurous, impetuous at times. She adored foreign travel and wild swimming, she wrote poetry and went to concerts and the theatre as often as her work would allow. And she loved cats. She described herself once as being like a soda stream, fizzing with pleasure. That is the Audrey who is beginning to appear in my work.
My next three months will be taken up with beating the book into shape, teasing out the development of Audrey's personality over the decades and planting her firmly, enthusiasm and all, in her life's work as editor of Vogue. Appropriately, as Audrey loved America, I will be posting my next update on 4 July, the day before I fly to Boston for my son's wedding. How about that for a neat circle?