Now that Audrey is launched in Dressed for War she is public property. People have begun to contact me to tell me things about her which of course I wished I had known when I was writing the book. That always happens, though, so I have given up getting paranoid about missing out on every last gem. However, people have also been talking to me about how relevant they find Audrey's attitude towards clothes rationing and how it rings a bell for today's concerns about excess consumption and waste.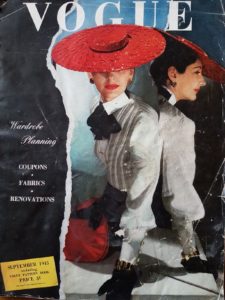 Last week I was thrilled to find a copy of the September 1943 edition of British Vogue with its stand-out beautiful cover and fascinating articles by Cecil Beaton, Lesley Blanch and Lee Miller. Audrey's editorial for that edition was entitled Miniature Wardrobe. 'Wardrobes are shrinking fast,' she wrote, 'and the smaller they get the more perfect they have to be.' That autumn she would tell the New York editor of Vogue that she had in her personal wardrobe three suits, which she varied with blouses and accessories, one cashmere dress for dining out and two pairs of 'slacks' which she wore with baggy jumpers at weekends. She concluded her editorial: 'In a miniature wardrobe – as in a small circle of friends – versatility is to be prized and bores not admitted.' Coming a year after the introduction of Utility clothing and Austerity design it is clear to me that Audrey and her fashion editors were trying to encourage an upbeat message in straitened circumstances.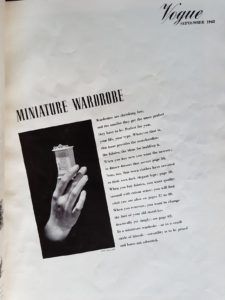 For Audrey Withers and her generation, recycling, making-do and mending, refashioning clothes and eking out the last few months of an old suit was part of their every day after clothes rationing was introduced in June 1941. In fact, before that date there had been a ban on the sale of silk stockings and all sorts of clothing was in short supply as a result of the bombing of factories. In comparison to a human life, clothing must have seemed unimportant. Yet it was not dispensable. At the most basic level, people had to keep warm. Children needed clothes and shoes to go to school. Men and women had to be dressed to go to work, whether in factories, in secretarial offices or indeed in the editor's office of the most prestigious fashion magazine. The government understood that clothing was also important for morale. That is one of the reasons why they allowed the women's magazines to continue to publish, albeit with a reduced quantity of paper.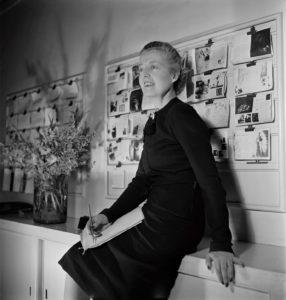 Today, in Britain at least, we are not in the position of having to limit our wardrobes because of clothes rationing. We live in an altogether different time. A time of plenty which is running into an era of excess. Perhaps we can learn lessons from Audrey Withers. Barbara Guarducci and Saskia Terzani certainly seemed to think so when I met them via Skype in the autumn of 2019. They founded Mending for Good 'to provide ethical solutions for fashion waste.' When I met Barbara in London in November, she and I quickly found that we had the same anxiety about the vast excess that fashion creates. My concern came from having spent six years writing about wartime clothing, hers from a lifetime's experience of the fashion industry but we met at the same point: we have to declare war on overproduction and waste. We are living beyond our means in terms of our impact on the environment and we have to change the culture that permits over-consumption.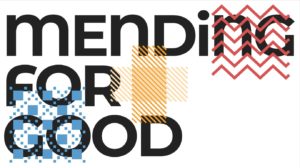 Barbara, Saskia and I decided to team up to help launch Mending for Good at the same time as we launched Audrey in Dressed for War. The themes seemed to align so well. Then came the suggestion to produce a series of embroideries of Audrey's phrases that she used in Vogue to exhort readers to think about their clothes. Taken on their face value they seem to have as much relevance today as they did eighty years ago: Wage War Against Waste, Quality Rather than Quantity, but also the more reassuring: You Cannot Ration Style or Relax and Mend.
Mending for Good works with the London College of Fashion's vocational training and ethical manufacturing initiative. That sounds a bit of a mouthful but it is a wonderful undertaking that gives employment opportunities women in socially frail and challenging circumstances. We commissioned a group of women in HMP/YOI Downview Prison to create 100 embroideries with eight different messages. We gave them away to guests at the book launch and they proved so popular that I have only the original eight examples left.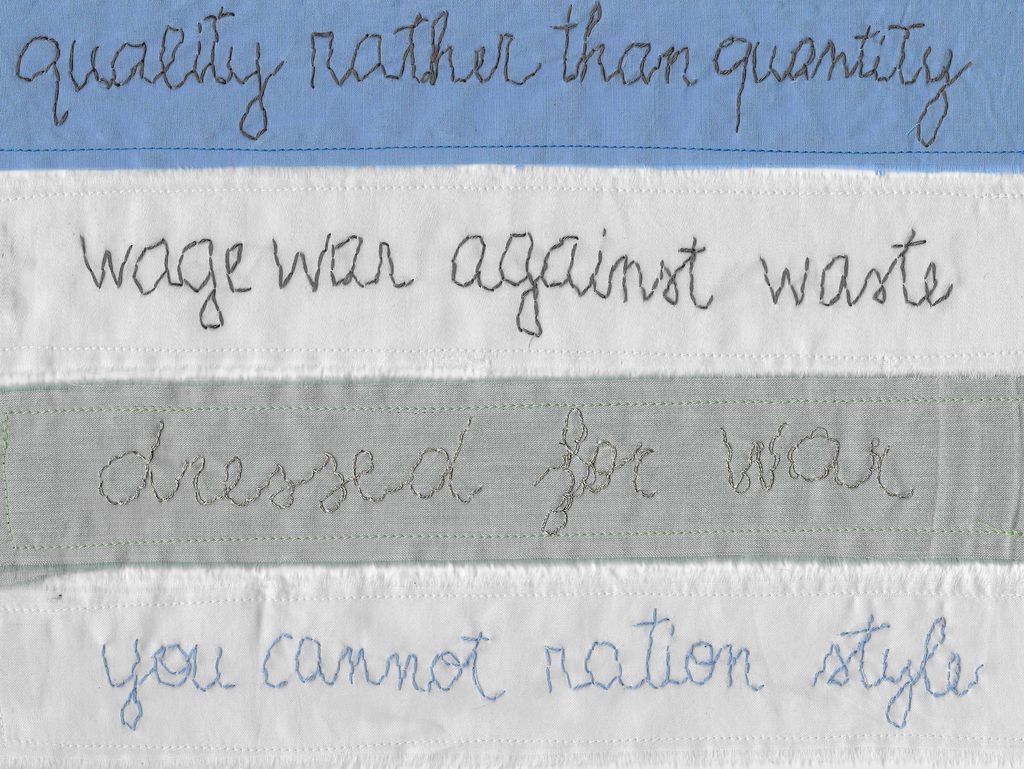 I know Audrey would have approved of this initiative on so many levels. After the war she strove hard to make people – young women in particular – think about the fashion industry as a career that could help to make a difference. She ran a competition in Vogue from 1945 to get this message across. Today the London College of Fashion's Making for Change initiative and my friends at Mending for Good are both trying to help change the way people think about fashion production. That is a wonderful thing.
I believe Audrey's wartime campaign to encourage women to think responsibly but creatively about fashion can find echoes in today's world.