Welcome to my fourth newsletter. One or two people have asked why I don't produce a newsletter every month. There are two answers to this question. One is that I do not have the time, and the other is that my work does not move as quickly as all that, so that a monthly letter could be thin on information if I'm buried in writing, as I was in April and May. Looking at my diary for the latter month, when Relative Strangers was in its final stages, I had one visit to London and one meeting in Oxford. That was it. However, I can assure you that I had my nose firmly to the grindstone, and the book went in on time.Contents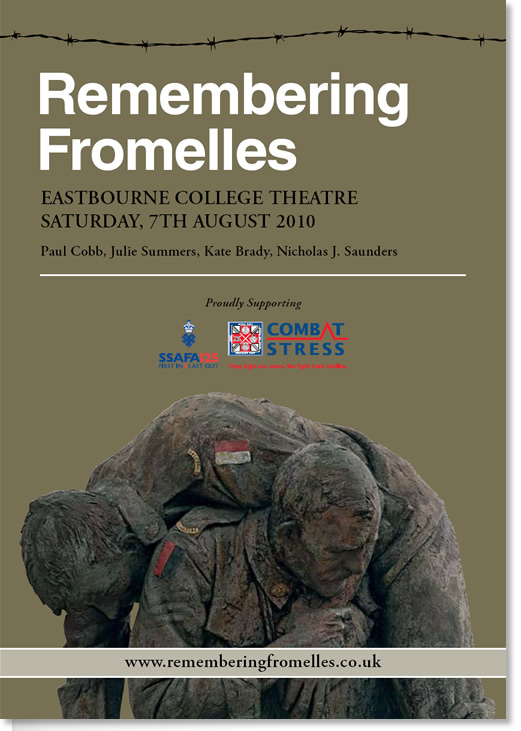 Updates
More Moore
A World of Snow and Ice
The Red Pen
Pen Thoughts
Forthcoming Events
Updates
One exciting piece of news for the summer is that the audio CD of The Colonel of Tamarkan has been chosen for a National Audiobook promotion which runs from early July for two months. I am so pleased for Catriona Oliphant at Chrome Audio as she richly deserves success after all the effort she puts into her audio books. She is currently working on a set of travel CDs that are already exciting considerable interest from critics and retailers. Her trick? Consistent high standards and excellent quality productions.
Both British and Commonwealth War Cemeteries (Shire Publications) and Remembering Fromelles (CWGC Publishing) appeared on 1 July 2010. The former is a short history of war cemeteries and I am really quite thrilled with the way it has turned out, with a selection of slightly quirky but interesting pictures to accompany some equally quirky facts. I had not realised when I started the book, for example, that the history of war cemeteries is one of just 95 years. The book could equally have been called From Crimea to Korea. We didn't have war cemeteries before then and we don't have them now -with the exception of the one at San Carlos on the Falkland Islands that holds the graves of 16 men who died during the Falklands Conflict. The second book, Remembering Fromelles, is about the Commonwealth War Graves Commission's brand new cemetery that is to be dedicated on 19 July at Fromelles in northern France. The commemorative publication, as it is known, is accompanied by an exhibition at the Imperial War Museum in London running from 1 July 2010 to 30 January 2011.
On 15 September I am doing a lecture at the Army & Navy Club in Piccadilly about the making of modern Remembrance. It is the most important event of the autumn for me and I am very flattered to have been asked. There are still tickets available (details at the bottom of the newsletter).More Moore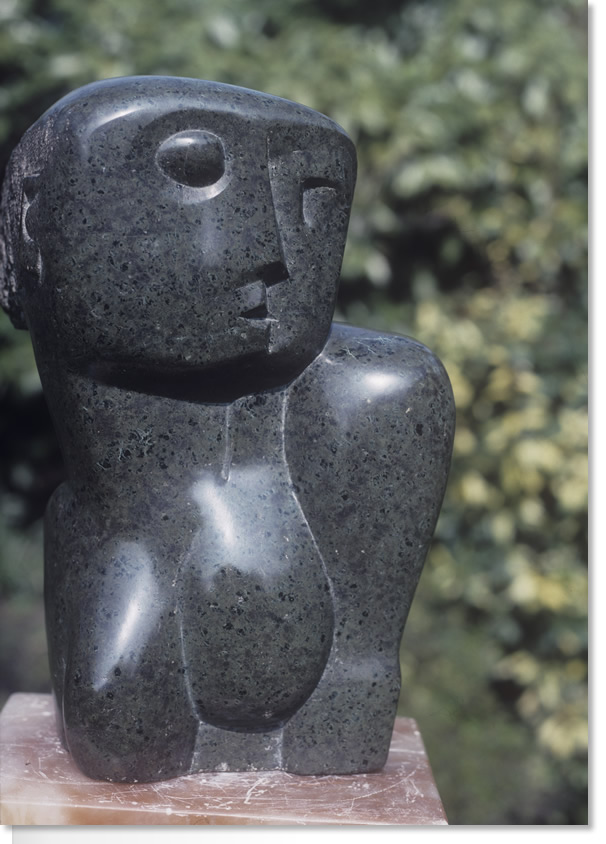 Head and Shoulders 1927
LH 48
verde di Prato
height 45.7cm
photo: The Henry Moore Foundation archiveImage reproduced by permission of the Henry Moore Foundation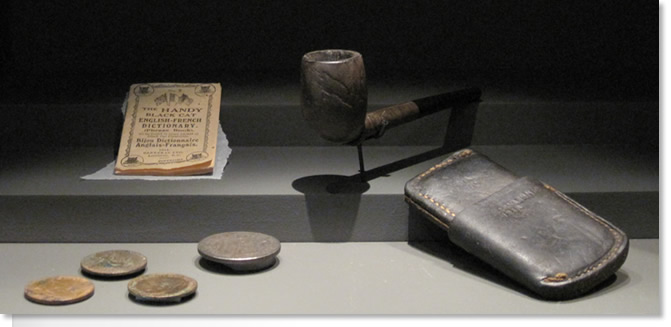 Showcase in Remembering Fromelles at the IWM showing coins, leather matches case, pipe and phrase book, all found in the Fromelles area
This year Tate Britain organised a retrospective of Henry Moore's work, focussing on the years 1920 to 1960 and particularly on his carvings. I found the show breathtaking and would strongly recommend anyone to visit the exhibition. And that comes from someone who has had her fair share of Moore exhibitions over the last 22 years. Overwhelming is the stoniness of the early carvings and I was left with a feeling of a tremendous latent energy in the pre-war work and of a deep, greedy, almost obsessive love of stone. Moore used a huge variety of stone – from the familiar British Portland and Ancaster stones to the exotic African Wonderstone (a tiny head) and the luxuriant Verde di Prato, an Italian stone of intense dark green with black, white and grey running through it. He quoted Michelangelo as his inspiration and it is not difficult to see why. Like the great Renaissance master, Moore knew how to release his figures from stone and from very early on in the exhibition one has the impression of his eagerness to let them out, to take shape, almost to live and breathe. I was also struck by the huge influence that African and Mexican primitive art had had on his early work, and so many of the sculptures from the 1930s have lines and shapes carved into the surface, so that the viewer is captivated at once by the organic shape and the linear surface detail.
Those of you who have known me for a very long time will remember that I once worked for the Henry Moore Foundation in Hertfordshire, based next door to the home where Moore lived with his wife Irina from 1940. I have always kept in touch with my old colleagues, however it has been several years since I visited Perry Green and saw the lovely grounds, the studios with their tantalising glimpses of Moore's working practice and wandered around the sculpture gardens that were my 'home' for nearly six years. I went back in mid-June to the launch of their new exhibition Henry Moore Deluxe: Books, Prints & Portfolios. Quite apart from it being a heavenly midsummer evening and therefore a joy to be in the sculpture gardens, it was also a great opportunity to catch up with old friends, many of whom still work at the Foundation. It was also a timely reminder, as I was about to install the Remembering Fromelles exhibition at the Imperial War Museum, of the secrets of good exhibition design.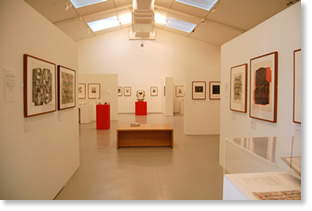 Henry Moore Deluxe: Books, Prints & Portfolios
exhibition on display at Perry Green, 2010photo: Suzanne Eustace
In particular, David Mitchinson, my old boss and Moore exhibition-meister par excellence, reminded me with his stunning display of graphics, sculptures and found objects, such as the head of an elephant given to Moore by Julian Huxley in the 1970s, of the importance of the spatial relationships between objects and two-dimensional works. Nothing is haphazard in a Mitchinson-designed exhibition. In fact, it's precise and accurate. But there is always an airiness, a beautiful simplicity and a tantalising invitation to look, consider, make comparisons but not be spoon-fed. Can I do this with the strange selection of objets trouvés that will be on display in six little showcases in our exhibition at the IWM? I wonder. The risk is that the objects will look jewel-like and that is wholly inappropriate for things found on the battlefield, many probably having belonged to soldiers who did not survive the war. They have to be easily read for what they are – a pen, a lighter, a home-made identity tag, a phrase book – without looking exquisite. Quite a challenge, but then if David Mitchinson can make the elephant head look on the one hand like a bony, zoological exhibit and on the other hand like an individual, captivating object of study which enthralled and inspired Moore, then I ought, as his former pupil, to be able to make a cigarette-lighter look like a metal cylinder but at the same time a personal belonging with a history. Hmm. We'll see.A World of Snow and Ice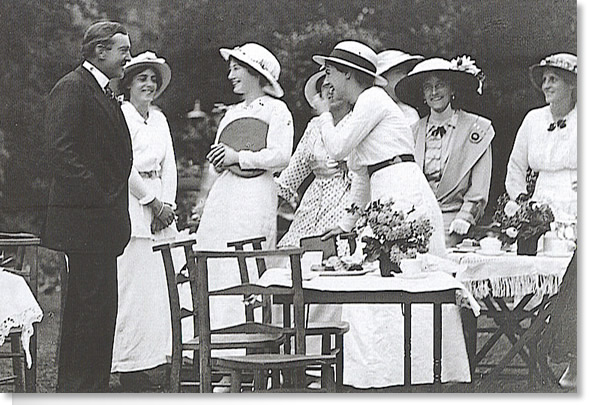 Sir Ernest Shackleton charming a group of ladies at a garden party after the Nimrod expedition.
Look at the effect of his magnetic personality and abundant charm on these ladies.
Eight years ago I worked on a huge picture book about the life and polar expeditions of Sir Ernest Shackleton. It was a glorious project to work on, as the quality of the photographs, particularly those taken by Frank Hurley of the ill-fated Endurance as she sank into the ice, was stunning. I've not touched the subject in at least six years and then suddenly, out of the blue, two different people asked me to give my Shackleton lecture.
This is a very over-crowded field, as Shackleton serves as an inspirational model for business talks by various speakers; he is used by explorers and adventurers, some of whom have followed in his footsteps, and there are, of course, a large number of his relatives still living as he came from an enormous family. So I have decided to focus on the man himself and what made him two such completely different people – the seafaring explorer full of boundless optimism and with an extraordinary ability to enthuse men from all walks of life, and the man uncomfortable on home soil. He seemed to yearn for travel when he was on dry land and for home when he was at sea. His biographer puts it down to his classless Anglo-Irish ancestry but I think he is more interesting and complex than that. It has been a fascinating journey to try to get to the roots of the man himself. I hope it will be an interesting talk. The photographs, at any rate, are stunning.The Red Pen
As I am about to enter the editing process of Relative Strangers, I thought I would write a little bit about my relationship with editors. I'm one of those authors who respond very well to being edited. I like the to and fro of discussing the shape of a chapter, a paragraph or even, sometimes, a sentence. Some writers are extremely possessive about their work being touched by an editor, but in my experience it is almost always a positive improvement and I, for one, am certainly not confident enough to believe that anything I write cannot be improved upon. However, and there always is a 'however', there have been occasions when I have insisted upon keeping a phrase or sentence in the teeth of fierce opposition. The classic was a discussion about 'the English Rose'. I wrote a sentence in Remembered about the gardeners of the Commonwealth War Graves Commission realising that 'the English rose grows in all but the harshest climes'. This was immediately red-penned and changed to 'English roses grow in all but the harshest climates.' It grated so hard that I yelped when I saw the alteration. No, no, this was not what I meant.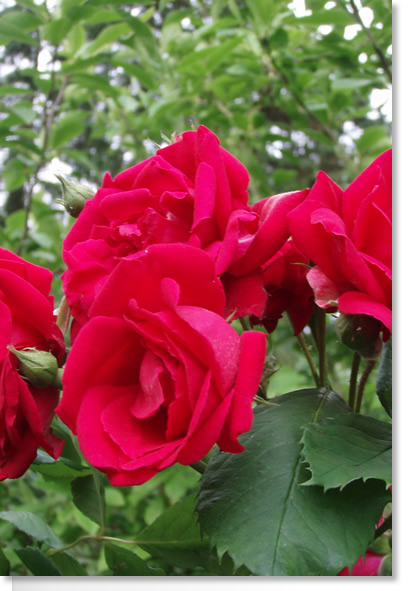 When I tried to explain that with the English Rose I wanted to evoke not only prickly stemmed plants with pretty flowers but the whole concept of the quiet beauty of a young girl, the heady scent of an English rose garden at dusk, the sensual velvet of rose petals against flesh – all that and more – that would adorn the graves of men who had, for the most part, died in the flush of youth, I met with incomprehension. This editor was clearly no gardener nor was she a romantic. But I won her round in the end.
My next battle was over the sentence that I used to open Stranger in the House 'During the course of 1945 the Second World War ended.' This was changed, not by my editor at Simon & Schuster, who understood what I was getting at, but by another editor who wanted to use extracts from the book for another project. She changed it to: 'The Second World War ended in 1945.' True. I can't deny it. But the meaning is wholly altered and the sentence didn't do what I wanted it to, which was to imply the drawn-out nature of the close of the most destructive war in history. It began to end, as it were, in spring 1945 but it dragged on for several months after the European war ended in May. It was not until the atom bombs were dropped on Hiroshima and Nagasaki and the Pacific War came to an end on 15 August. But the sentence, which encapsulates for me the whole theme of Stranger in the House, was about more than the war coming to an end. It was about men coming home, women coping with change, the country looking at the devastation wrought by six years of war, the world coming to terms with a new shape, new boundaries, new understandings of horror, after the dust of the A-bombs had settled. That was what I meant. So I stuck to my guns on that too.
There are also silly examples of misunderstandings which can also catch one out. One editor wanted me to describe the First World War as a 'conflict'. Wow. That really wound me up until I realised that the point he was trying to make was that the First World War didn't gain that name until the Second World War. It was The Great War. Fine, I agreed. But let's not call it a conflict, please.
So, although I have, in the main, happy, productive and often fun relationships with editors, there are a very small number of occasions when I have to stab my pen on the manuscript and growl 'no'.Pen Thoughts
One of the joys, or horrors, depending on your take on this, is giving talks and lectures about books. I love doing it as it gives me the opportunity to talk to people and get feedback as well as share my enthusiasm for my subject matter. Years ago, when I very first started writing, I was given a useful tip by a fellow biographer, Peter Gillman. He told me not to speak from notes but to use my slides as an aide mémoire. It worked and I have learned a trick or two since those first talks in how to turn the pictures into a narrative that not only acts as a prompt for dates and names but also gives the talk shape. It takes time to get a talk just how I want it and sometimes I have two or three goes at getting the images in the right order before I feel completely comfortable about it, but when it works, it gives me freedom to digress and tell the odd anecdote whilst keeping the thread firmly in my sights and on the screen – and so in the sights of my audience. Recently I spoke for the Scottish Royal Geographical Society and did five lectures in four days on Everest Needs You, Mr Irvine. I'm sure that had I been reading from a script it would have been difficult to keep the adrenalin flowing and the narrative lively. So thank you, Peter Gillman, for a very useful tip.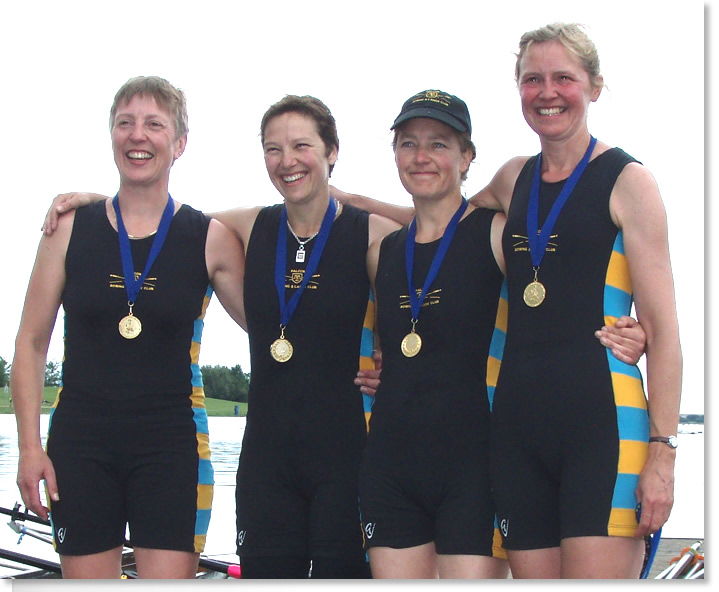 Left to right: Julie, Jude, Lil, ZenaAnd Finally…
…I could not sign off without mentioning that we – that is the quadesses and I – have been belting up and down the river in our boat. On 13 June we competed at the British Masters Rowing Championships in Nottingham. It used to be called, rather more descriptively and accurately, the Veterans rowing championships. We competed in the novice quadruple sculls for our age group and to our surprise and delight we won a gold medal. Mine is now hanging from my bookshelf in my office. Lil, who was playing at the first night of Pelléas et Mélisande at the Opéra Comique in Paris, wore her medal round her neck when she arrived for the performance. I suspect Zena and Jude sleep in theirs.
Julie Summers
July 2010, Oxford
julie@juilesummers.co.ukForthcoming Events
Remembering Fromelles: a new cemetery for a new century
1 July to 31 January 2010 at the Imperial War Museum, Lambeth
Free entry; opening times onwww.iwm.org.uk
Remembering Fromelles Eastbourne College
7 August 2010
For tickets go to www.rememberingfromelles.co.uk
The Making of Modern Remembrance
Army & Navy Club, Piccadilly, 15 September 2010
For tickets contact Sharon Taylor on 020 7827 8023, fax 020 7930 9991 or email st@therag.co.uk