Welcome to my ninth newsletter, posted at the very end, I suspect, of the season of mellow fruitfulness. I can hardly remember a lovelier autumn and certainly the trees in my garden have put on an unrivalled display of beauty.Contents
Mr Irvine laid to rest (for a while)
The Warpath Leads to Woodstock
E.E.K.
Clowning about
Pen Thoughts
Forthcoming Events
Mr Irvine laid to rest (for a while)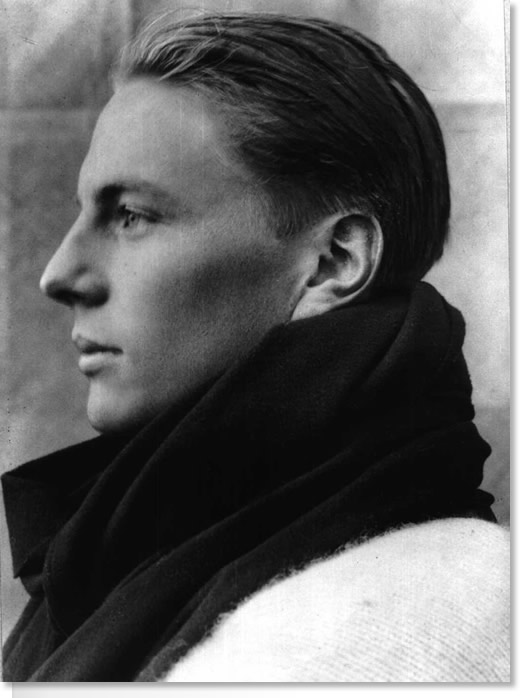 Sandy Irvine
My lecture tour "Everest Needs You, Mr Irvine", organised by Rebecca Varley from Speakers from the Edge finished on 3rd November in Andover. I even got a nice review from Nigel Vardy in Derby. Six weeks on and off the road has been tiring but exhilarating in equal measure. Sandy's story has certainly engaged those who heard it, and I don't think for a minute that interest in the 1924 Mount Everest exhibition is diminishing. On the contrary, fascination with it seems as alive as ever. Earlier in the summer I had a small spat with Tom Holzel, an American who believes that he knows where Sandy's body is lying on Everest; he intends to go and dig him up and find that all-elusive camera that will prove whether or not they got to the top. Proof? What proof? What does it prove if there is no picture of the summit? It could indicate they didn't make it, yes, but it could also be that the film was damaged, that it was dark on the summit, that Sandy's hands were too cold, that the camera jammed. It might be possible to prove they did make it, but conclusive proof that they did not make it will never exist. That is unless Sandy sat on the Second Step and wrote on a piece of paper 'bother, beaten'. Unlikely, I think.
Then there is Somervell's relative, Graham Hoyland, who wrote to me a while back saying he was sorry to have to tell me that after a lifetime of believing they had got to the summit he had now come to the conclusion they had not. Should his opinion on the greatest mountaineering mystery of all time change my life? I think not. Why should I give credit to any of the conspiracy theories and hair-brained so-called research into this story? I've been endlessly polite and patient when people ask me about it, but actually I'm getting fed up. I am constantly asked 'wouldn't you like to know if Mallory and Irvine got to the summit?' The answer is that I don't really care either way. What they achieved is so remarkable and inspiring that the last few hundred feet do not matter. And, in Hillary's famous words, you have to descend in order to be able to claim the summit. What was does bother me is people's determination to find an answer and in doing so to expose Sandy's frozen, bird-pecked mortal remains to greedy media hungry for sensational images. If he could be accorded the same dignity in death as are those soldiers of the First World War battlefields whose remains are still found in areas where the war was fought, then I would be less uncomfortable but that will not be the case. So my answer is: 'No, I'd rather he was left alone.'The Warpath Leads to Woodstock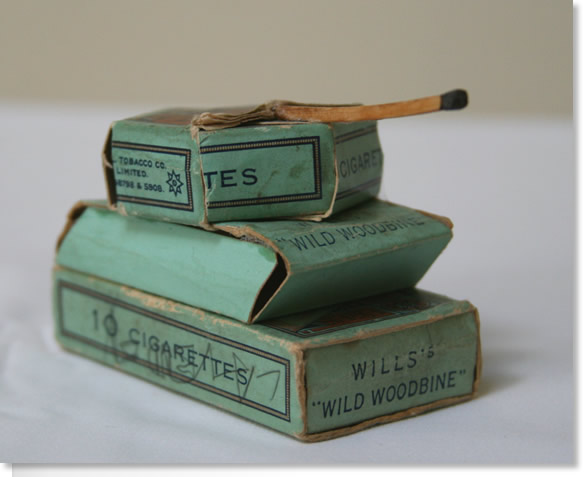 Tank made from Woodbine cigarette packet.
Holley/Cornelius Collection, Bletchley Park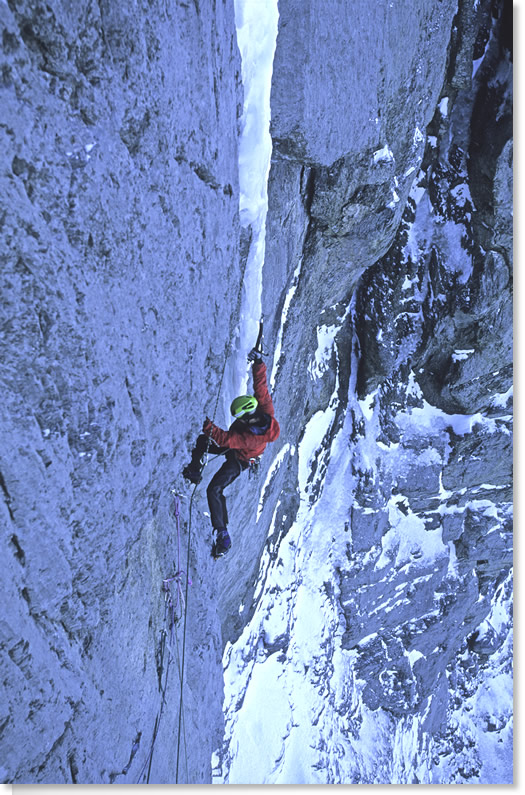 Swiss climber Ueli Steck on the North Wall of the Eiger, 2008, photographed by Robert Boesch ©
(not to be reproduced without permission from the copyright holder)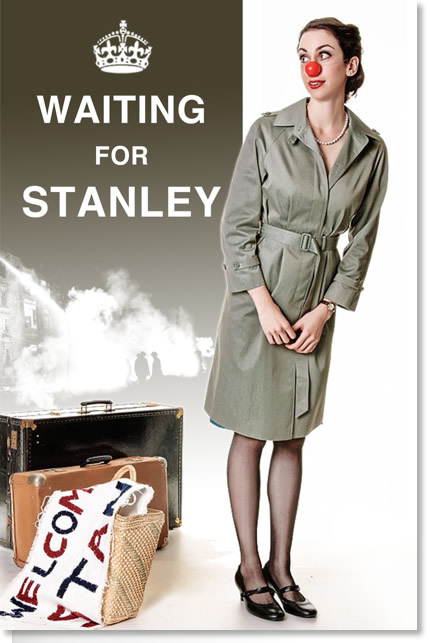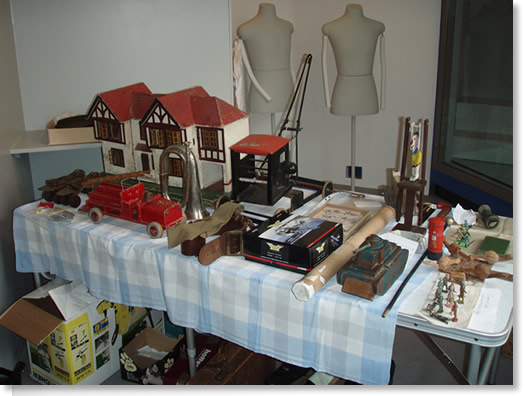 Objects for the showcases piled up on a table waiting to be given breathing space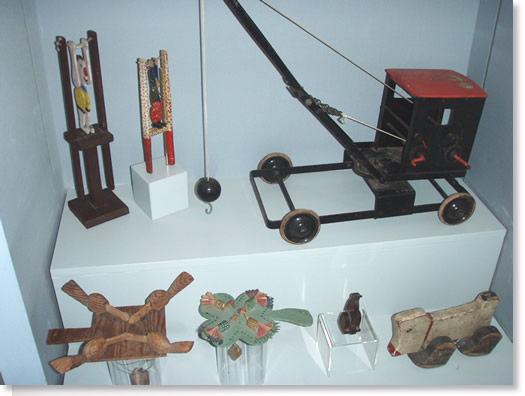 A corner of the toys' showcase with the penguin and the crane living happily side by side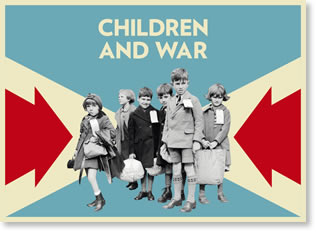 While I'm on the warpath, I want to mention briefly the exhibition I have been working on that opened in Woodstock at the Oxfordshire Museum last month. We succeeded in squeezing a quart into a pint pot without, I hope, giving the sense that the exhibition was overcrowded. It is titled Children and War and it looks at all aspects of war and how that affects children's lives, both for the worse and the better. There is a lovely online version of the exhibition which you can visit. Cramming boy soldiers, innocent victims of war, commemoration, evacuees, asylum seekers, refugees and toys into a single gallery was a huge challenge but with the help of the very talented Glenn Howard, our designer, it worked. Borrowing works is always a pleasure and a delight for an exhibition organiser and especially so this time when dealing with Mark and Min at the Holley/Cornelius Collection at Bletchley Park. They lent us the bulk of the toys in the exhibition, including a doll's house that had been commandeered by a father from his daughter to teach his troops house-to-house combat, and a tiny model tank made out of a Woodbine cigarette box. If you are in the vicinity of Woodstock it's worth popping in. The exhibition is free and suitable for children from the ages of 4 to 104. Corny but true, believe me.E.E.K.
Alongside my other work I am currently Chairman of the Mountain Heritage Trust, which is growing and developing all the time into a serious and exciting project that takes care of Britain's rich climbing legacy. Everest is always going to be part of this story, which I suppose is why I got roped into joining the Trust seven years ago. This year, however, it is the second E, the Eiger, that will dominate. We are holding our big, annual, fundraising event at the Royal Geographical Society in London on 1st December and our two speakers are going to be Chris Bonington, talking about the history of the North Face, and Swiss climber and super speed merchant, Ueli Steck, who climbed the face in 2008 in 3 hours and 47 minutes. A staggering feat by any stretch of the imagination. There is more about that event on our newly jazzed up website www.mountain-heritage.org which got its overhaul at the hands of Glenn Howard – yes, the name will be familiar to you from Children and War – in July.
And the K? Well, that stands for Kendal. It's time for the annual mountain-fest of film, literature, extreme talking and drinking which runs for a weekend every November. Always entertaining, usually exhilarating and very often downright funny, it is a weekend not to be missed if you are interested in catching up with what is going on in the great outdoors. It is not just about photographs of people dangling from overhangs by a pair of ice hammers and the toes of one cramponed foot high above an icefall, or films of young, beautiful people slacklining high above Lake Geneva; it's also about the environment and mountain culture, about historical personalities as well as today's rock athletes. I recommend it as an invigorating weekend away.
There is another K, namely K2. Doug Scott ran a successful series of lectures last year for his charity Community Action Nepal, entitled First on Everest. This year he is launching First on K2 in Oxford and we anticipate it will be an equally fascinating event. I have to admit that Doug's energy makes me feel slothful by comparison. He is one of the busiest people I've ever met. So if you fancy finding out more about either E or K, then Mountain Heritage's website for the former and www.mountainfest.co.uk and www.canepal.org.uk for the latter.Clowning about
Several times a week I get unsolicited emails from people, usually but not always in connection with my books. Some are poignant, others are crackpot and just occasionally the odd one is fabulously rewarding. One of the best came from a clown called Leela Bunce who wrote to me a couple of years ago to tell me about a show she was putting together called Waiting for Stanley which focused on a young woman during the Second World War waiting for her husband to return. She had read Stranger in the House and had found many of the stories moving and relevant to her research. Something about her energy and enthusiasm made me want to keep in touch with her and I'm very glad I did. On 16th October 2011 I went to the Greenwich Theatre in London with my friends Andy and Graham, to watch the premiere performance. It was absolutely remarkable: funny, agonisingly sad, shocking and brilliantly evocative. Some of the pieces in the performance (it was more or less all in mime) were breathtaking and I can only recommend you go to see it if it comes to a theatre near you. Leela and the director, Alex Parsonage, are very talented and their clever performance will appeal to anyone from about 8 years old upwards. Check out www.fingerinthepie.com/stanley if you want to find out more.Pen Thoughts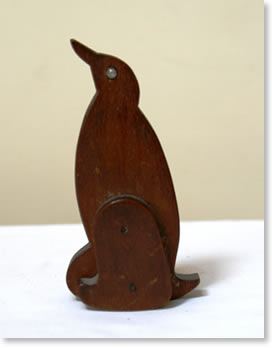 Setting up an exhibition is always a pleasure. After months and sometimes years of planning there is nothing more exciting than seeing the fruits of one's imagination realised. Although I am not artistic I have a strong visual sense and it is years since I have been surprised by how an exhibition looks once it is up. However, individual showcases or groups of objects still have the power to take my breath away, especially if they have been difficult to bring together in the first place. Moving an object 2 cm to the left or raising it a few millimetres on a Perspex plinth can make all the difference. Objects need to exist in their own space and say 'hey, look at me, I am the most important.' The showcase I am most proud of in Children and War in Woodstock is that of the toys. Everything from a wooden wobbly penguin to a large metal crane with wrecking ball hunkers side by side. There are over 20 toys in that case, which is far more than I would ever have dreamed of putting in a Henry Moore showcase for example. I wondered why this was and came to the conclusion that Moore's sculptures, even the maquettes, demand a lot of breathing space. He created them to be turned over in one's mind and one's hands. Their abstract forms are often not easy to read and they demand time. A pop gun or a wooden tank is a familiar object that is easily recognisable and so it tells its story more quickly and simply. It is not that those objects have less value, it is just that they need less introduction. They are part of the story rather than the whole. I still needed to fiddle and ensure that each was shown to its very best effect but the overall is as important as the individual. If you visit the exhibition I hope you will think it works.
Julie Summers
November 2011, Oxford
julie@juilesummers.co.ukForthcoming Events
17-20 November 2011
Kendal Mountain FestivalI will be interviewing writers for the Boardman Tasker prize and introducing events throughout the weekend including the Mountain Heritage Trust 'Antiques Road Show'www.mountainfest.co.uk
24 November 2011
Aston Scott School will be reliving evacuation day and I will be attending as a guest speaker
25th November 2011 at the Gateway Education and Arts Centre, Shrewsbury 11:30am
Shrewsbury Book Fest When the Children Came Homewww.shrewsburybookfest.co.uk
26th November 2011 6pm Wayfarers' Club lecture in Ambleside
Everest Needs You, Mr Irvine
29th November History Channel
When the Boys Came Home
1st December at the Royal Geographical Society, London
Triumph and Tragedy on the EigerI will be introducing Messrs Bonington and Steck at this Mountain Heritage Trust evening.www.thebmc.co.uk/News.aspx?id=3766