November 2009
Welcome to my second newsletter. There is a theme of ice, rocks, snow and water in everything but the updates. It was not intentional – it just happened that way. So wrap up warm and enjoy some extreme activities from the comfort of your chair.Contents
Updates
The Wildest Dream
Fit for purpose
Pen Thoughts
Updates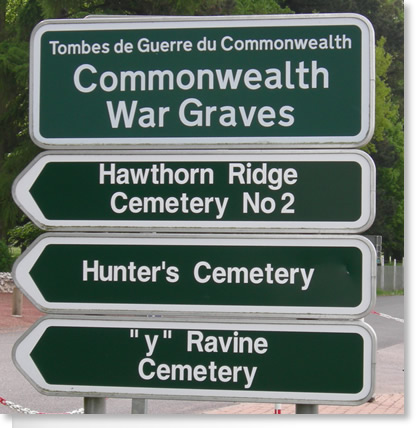 Signs to cemeteries at Beaumont-Hamel Memorial Park on the Somme. Many of those 650 or so men buried here died on the first day of the Battle of the Somme.The audio-CD of The Colonel of Tamarkan, which came out in the late summer, has enjoyed super reviews in the broadsheets. Meanwhile, I finished the draft of the book on war cemeteries for Shire Publications, which should come out some time next summer. It was poignant to be writing that book in the lead up to the first Armistice Day on which there were no more surviving veterans from the Great War. Although the first war cemeteries were built in the nineteenth century, it was really the unparalleled losses of the 1914-18 war that made the work of the then Imperial War Graves Commission both necessary and relevant, and it was the national outpouring of grief during and after that war that shaped our practice of remembrance today. Fittingly, the work I am now engaged upon, which is the publication for the Commission on its new cemetery at Fromelles, leads on from the war cemeteries book.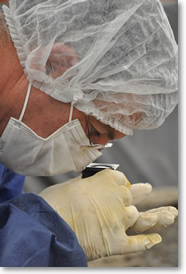 Every find discovered at Fromelles is minutely examined. Some are personal, some generic but each is a potential clue to the identity of a man buried here.I have spent the past few weeks in conversation with archaeologists, DNA experts and photographers who have been involved in the recovery of the 250 sets of remains from mass graves dug by the Germans after the Battle of Fromelles in July 1916. There have been some surprising details and moving stories, many of which we will try to weave into the book and Imperial War Museum exhibition for July 2010.
I must not forget my evacuees, who also get plenty of attention on a daily basis. The interviews are complete and most of the reading I wanted to do for the book has been done, so now comes the job of turning a conflation of papers into a narrative. It is the part of the book I enjoy most, in some ways, but it is also difficult and requires plenty of quiet, and a clear space in my head.The Wildest Dream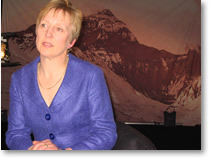 Eighteen months ago I spent a very cold afternoon in a warehouse in North London being interviewed in front of a gigantic photographic reproduction of the North face of Mount Everest. I can no longer remember all the questions I was asked in the course of filming but I do recall being pushed to relate some of the more 'exciting' stories about my great uncle, Sandy Irvine, the subject under discussion. That all now seems a very long time ago. Occasionally over the ensuing months I received the odd update but it was only when I was sent an invitation to a private viewing in London that I realised this project had come to fruition.
My husband, Chris, and I went to the screening in Soho on a rainy afternoon in early November (Friday 13th to be precise). There were half a dozen people in a theatre with seats for perhaps twenty and we all sat, mesmerised by the awe-inspiring shots of Mount Everest taken in 2007 and blended with panoramic images from the 1920s. The film is a drama documentary-cum-reconstruction of the last climb of George Mallory and Sandy Irvine.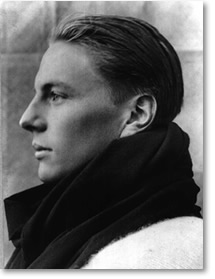 Sandy Irvine, 1923The film focuses mostly on Mallory, the more famous of the two men, but Sandy gets plenty of puff and comes across as a serious athlete, a charismatic young man with energy and character bubbling over in equal measure and as just the man you would want on an expedition to fix your oxygen apparatus. So, an accurate portrayal.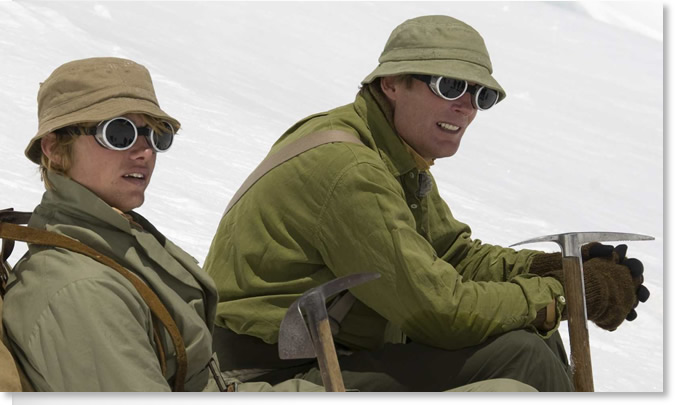 © Atlantic ProductionsA delightful surprise in the film is Leo Houlding, one of Britain's most talented young climbers, who went to Everest in 2007 to take the part of Sandy in the reconstruction. Leo (left) and Conrad Anker as Mallory were to climb part of the way up the mountain in 1920s kit and, perhaps more importantly, they planned to climb the so-called Second Step, a 60ft rock cliff close to the summit pyramid, which climbers have long argued would have stretched Mallory, and certainly Sandy Irvine, to the limits. Leo, at 26, was just a little older than Sandy. What is compelling about his performance, which seems wholly genuine, is his delight at finding himself part of this remarkable story and about to climb the highest mountain on earth. The resonance between him and Sandy is so strong at times that I found I had to pinch myself.
There is something slightly unnerving about seeing yourself on a cinema screen and I had not realised how much detail you see in high definition film. Every wrinkle, every whisker of hair out of place. Chris tells me he was unable to take his eyes off the nicotine-stained teeth of one of the interviewees but I found it most uncomfortable when there were close-up shots of the reconstruction of Mallory's frozen corpse.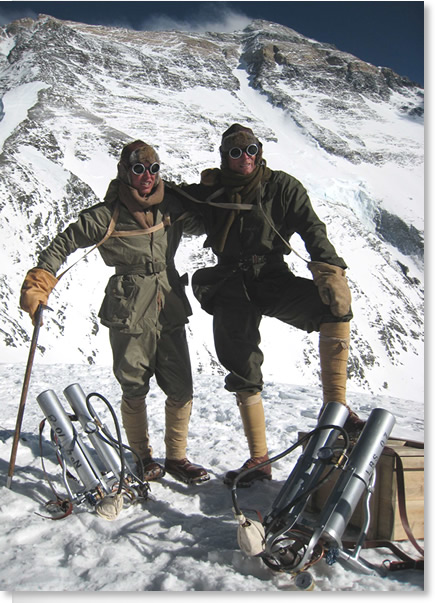 Leo Houlding (left) and Conrad Anker, dressed in replica 1924 clothing, created after careful study of the clothing.
© Leo Houlding
The film is due to be released in the States by National Geographic, who have also bought world-wide IMAX rights. I believe the UK and European rights are still under negotiation. Although National Geographic were relaxed about showing the corpse reconstruction, they balked at a tale I told of Sandy's prowess. So here it is, published in full for the first time: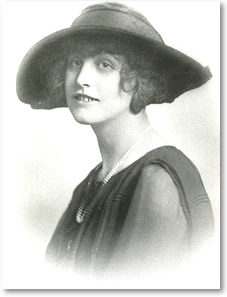 Marjory SummersSandy Irvine had a brief but indiscreet love affair with Marjory Summers, the very much younger second wife of Harry Summers (my great grandfather). Marjory, who had been a chorus girl when she married Harry at the age of 19, found life married to her stout, balding, fifty-two year old husband quiet. Dull even. So she found her own forms of entertainment in Flintshire, where she and Harry lived from 1917. By the time she threw her hat at Sandy in 1923, when he was twenty-one and she twenty six, she had thrown caution to the winds as far as her marriage was concerned. In a move of the utmost audacity she followed Sandy to Norway when he went with the Merton College Arctic expedition to Spitsbergen in July 1923. This much is already known.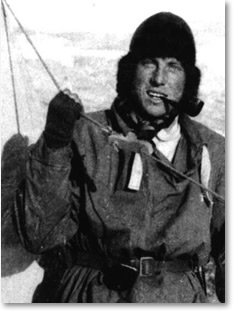 Sandy in Spitsbergen outside his tentI found Sandy's diary from the expedition in the library at Merton College, Oxford. He wrote that the ladies of the party had travelled in first class berths and that he and the other expedition members had been consigned to steerage. But on the last night that they were on board, before the party divided and the ladies went home, Sandy visited Marjory's cabin at five o'clock in the morning and made love to her three times before breakfast. The ladies departed that morning and Sandy spent three hours asleep on a box of biscuits in the customs' shed prior to leaving Tromso for the islands in the Norwegian archipelago.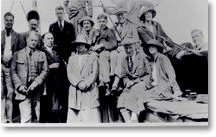 The Merton College Arctic expedition with ladies. Marjory seated top right next to Sandy in a flat cap smoking his pipe.When I discovered this sensational snippet I rang my father, who immediately said that he thought it inappropriate to publish such detail in my biography of Sandy. Being slightly in awe of my father and certainly respectful of his wishes I desisted and the story did not appear. A decision I have regretted ever since. Until now, that is. Now you all know. But what makes me laugh is that this information was too much for National Geographic as well. They demanded that Atlantic Productions cut the story from the film. Which they did. Bird pecked body parts yes, stories about sexual prowess no. Hmm. Let's hope Sandy's story makes it into the British version of the film.
Still, The Wildest Dream is certainly worth watching if you are interested in the Mallory and Irvine story and the reconstruction of the last climb is beautifully choreographed and filmed. You can almost believe they made it to the top of the world. A wild dream indeed.Fit for Purpose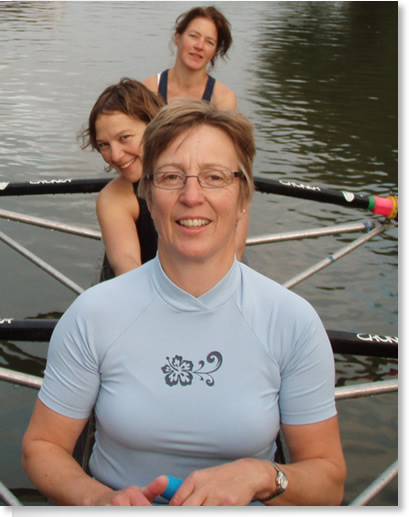 Julie in the 3 seat with Jude and Lil on the Isis,
October 2009I am often asked if I find writing difficult and how I shape my day in order to be disciplined enough to settle down to my work. The answer is that some weeks are more challenging than others. I find the only way to keep my eye in is to write something every single day. Chris jokes that if I don't have anything to write at the time I make lists. Sadly, he's not far wrong. One of the challenges of being an author and mother is keeping fit. Finding time to exercise is more difficult than finding time to write, but it has to be done because I know that when I am in good shape I am far more productive. I am sure we all are. So that is why I allowed myself to be talked into joining a group of women of a certain age who meet every Tuesday morning at a small club on the river Thames. We are known as the Falcon Mums but we see ourselves as Quadesses, such is the difference between perception and reality. And I don't even write fiction. Our coach, a biochemist with a doctorate in neurobiology, who stepped back from academia to teach rowing and sculling full time, has pulled us together from a bunch of giggly beginners into a fighting fit crew, albeit a veteran ladies crew, who race.
I know. It's insane. But it is the greatest possible fun. One of my fellow Quadesses was heard to gasp after a session: 'How can anything so addictive be good for you?' As I write this newsletter I am sitting up in bed at a friend's house in Putney (she fed me the obligatory pre-race pasta dinner last night – thank you Rebecca) waiting to go and meet the crew. Today we are going to race in the Veterans' Fours Head, a race of 6.84km (4½ miles) rowed with the tide from Mortlake to Putney. Sound familiar? Well, Sandy Irvine rowed it in 1923 in an eight, only in the other direction, when he sat in the three seat for the dark blues in the Boat Race. That year Oxford won by ¾ length. I am not so sure we will be winning today but the Quadess crew will be giving it everything we have. And tomorrow I shall be back at my desk writing about the architecture of the Great War.Pen Thoughts
'Every picture tells a story' is such an old cliché that I hesitate to use it here. However, when it comes to illustrating non-fiction, photographs can be extremely revealing. Well used and thoughtfully captioned photographs can enhance understanding of a topic but all too often books contain pictures that are either poor quality reproductions or badly explained, so that there is no rhyme or reason for them being included. I feel strongly that photographs have to earn their place in books and that the author then has a duty to ensure that they are appropriately captioned.
One of the most powerful photographs I have ever used is of The Endurance. On the face of it this picture is of Shackleton's ship sinking into the ice of the Weddell Sea in November 1915.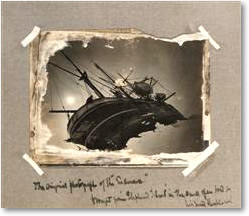 The original photograph of 'The Endurance' brought from Elephant Island to South Georgia by Sir Ernest ShackletonWhat is significant about the photograph, taken by Frank Hurley and developed and printed by him after the ship had gone down, was that Shackleton carried it with him in his pocket when he sailed from Elephant Island to South Georgia to raise the rescue mission for the men left behind. Now here's the critical thing as far as I am concerned. Frank Hurley took a photograph of a sinking ship. Fine. He developed the glass plate (approximately 12″ x 8"). Where? On the ice. In a tent. Then he made a little print for Shackleton. Not a big one, he couldn't have fitted a big one into his pocket. Where? Presumably also in a tent on the ice. Moving ice at that. In fact we know that Hurley kept a selection of the photographs he had taken on the voyage, prior to The Endurance being swallowed by the ice, because it is recorded that he and Shackleton had to make the terrible decision to jettison the majority of the glass slides as they were so heavy. Still, Hurley managed, in those extreme circumstances, to keep with him sufficient equipment to photograph, develop and print pictures. And then Shackleton succeeded in making his extraordinary journey in a lifeboat, the James Caird, from Elephant Island to South Georgia, some 800 miles across some of the heaviest seas in the world. He carried the photograph with him in order to prove who he was and what had happened to his ship. It is only slightly more remarkable that the photograph still exists and, perhaps, that I managed to find it. Picture research is often underestimated but when we researchers find gems it is thrilling and they should be made the most of.
I realise this newsletter deals with a world of snow, ice, rock and water but actually it is the human beings who function in this world who I wish to celebrate here. I hope you have enjoyed reading about them. Especially Marjory.
Julie Summers
12 November, Oxford


And if I am permitted a brief post-script, the Quadesses triumphed on the Tideway finishing third in their division – far higher than anyone had expected. I have greater respect than ever for the oarsmen in my family.